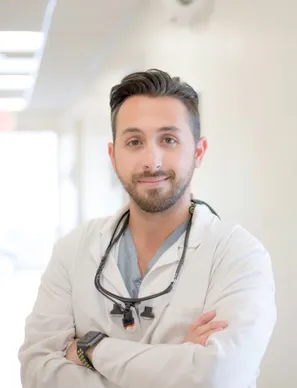 Dr. David Leo Finkelstein always knew his professional role was going to be rooted in medicine; changing the lives of patients and providing high quality care. This started at Wagner college, where Dr. David Leo focused his studies on science, graduating with a Bachelor's of Science in Nursing. After working as a Registered Nurse at Staten Island University Hospital, Dr. David Leo pursued a degree at New York University College of Dentistry, where he knew his nursing education and patient experience would pair well with an education in dentistry. Dr. David Leo then further completed training in a General Practice Residency at Coney Island Hospital.
At NYUCD, Dr. David Leo served as Vice President of the Aesthetics Honor Society and completed the Aesthetics Honors program, where he showcased his eye for detail and precision. He won first place at the American Academy of Cosmetic Dentistry for the top clinical case presentation nationwide and became a published author in the Journal of Cosmetic Dentistry.
Dr. David Leo is motivated, passionate, and excited to bring his artistic craft of dentistry to Kuser Family Dental. Patient health and thoughtful communication is the core in his approach. Dr. David Leo builds his relationships with trust, ensuring that everyone receives gentle care and has the utmost confidence in the treatment plan that is decided together.
In his spare time, Dr. David Leo is an avid photographer and an innate adventurer. He loves to travel and capture moments in time that could later be remembered forever. Feel free to ask him about his love for travel, food, and photography. Dr. David Leo is looking forward to developing long lasting relationships and taking care of your dental and overall health needs.